Practice Marketing Campaign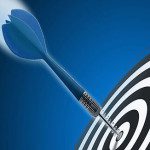 TAKE AIM
If you've ever shot an arrow, dart or firearm, I'm pretty sure you were aiming for a target. If not, you would just be shooting into the air and hitting whatever happened to be in the path … if anything. That is exactly what happens with marketing when you have not determined your target audience and start firing off your marketing. Picture your marketing dollars just floating through the air. No wait, don't! Let's not let that happen.
So, how do you determine your target audience? Consider your current patients. Who do you enjoy having as patients in your practice? Why do you enjoy them? Is it because of the type of dentistry they need and want? Is it because they keep their appointments and arrive on time? Is it because they accept treatment more readily? Is it because they appreciate you and your team, and the services you provide? These are some of the initial questions to consider when selecting your target audience. Once you've got your target, your marketing campaign can be developed to attract these patients. Sounds easy, right? It really can be, but you must not skip this step. It's the FIRST step … and the most critical.
When you attract ideal patients to your practice that fit your philosophy, it is a win-win. The patient finds the perfect dental home, and you build your dream practice. Yes!
Our full-service marketing solution:

Branding
Marketing Your Unique Practice

Vision Clarification
Content and Brand Development
Market Research
Logo Design
Identity Design
Community and Philanthropy

External
Internal

Website Enhancement
Social Media Campaign
Facebook Advertising
Google Advertising
YouTube Presence
Direct Mail Campaign
Media Advertising
Outdoor Advertising (bus, billboards, airports)
Community Marketing

Word of Mouth
Loyalty Programs
Internal Maintenance Plan
Patient Engagement Program
Brochures
Identity Package
Newsletters
Office Amenities
VIP program
If you're ready for this, our team would love to help you.
Next Step – Call Conversion Training