Call Conversion Training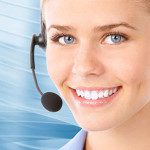 LISTEN UP
Once you've made the investment to make the phone ring, you want to rest assured knowing those perspective new patients become actual new patients. Statistics tell us that approximately 50% of new patient calls go unscheduled. With proper coaching, at least half of those lost calls could be converted to new patients.
Another common issue is unanswered calls. The last thing you want to do is invest money to make the phone ring, but the caller never hears a friendly voice on the end. In fact, they hear no voice. It rings and rings, or goes to voice mail. If your practice is understaffed, or closes during lunch hours, this may be happening in your office. In fact, because of the analysis and monitoring we are doing for clients, we know this is occurring in many dental practices.
Through our call analysis and monitoring software, we help determine peak calling times, missed opportunities with callers, training recommendations and marketing results. At RLM, we offer remote and on-site coaching. We listen to your recorded calls and work closely with team members to attain conversion goals. Our approach is very hands-on.